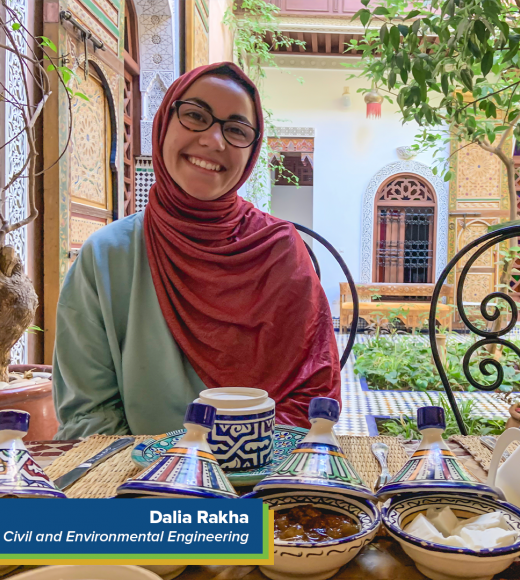 Bio
Dalia Rakha is a second year PhD student in Civil and Environmental Engineering at UC Davis. She received her Master's degree from the same department, and her Bachelor's degrees from Virginia Tech in both Biological Systems Engineering and Water: Resources, Policy, and Management. Her research interests lie in the intersection between drinking water quality, public health, and environmental justice. She is passionate about understanding how and why water, a basic human right, is not equally accessible to the human family and hopes to address this disparity with sustainable solutions. She is currently working on a collaborative research project with the Yurok Tribe Environmental Program (YTEP) under the EPA's Superfund program. The project aims to identity and determine if and how contaminants in the environment could be contributing to elevated numbers of health issues among Tribal members. She is analyzing samples from the Klamath River and its many tributaries to assess the quality of the water.
As a Bradshaw Scholar, Dalia is excited to work with YTEP under the supervision of Dr. Suzanne Fluharty on a research project centered around a contaminant recently discovered in river sediments and in the source water of the community. She will be conducting a literature review on hexavalent chromium, its sources, its fate and transport, the unique exposure routes faced by Yurok Tribal members, and potential negative health outcomes. This will help inform future sampling and remediation efforts, as well as public health notifications.
In her free time, Dalia loves to run, curl up with a good book, experiment in the kitchen, and hike both in her hometown in Virginia and across California.