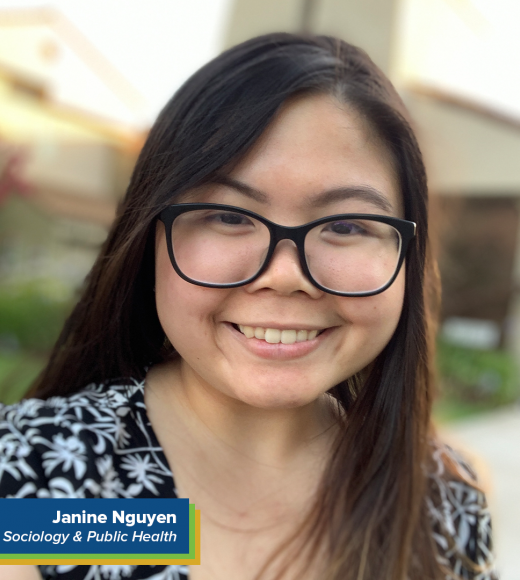 Bio
Janine Nguyen is a third year student at UC Davis majoring in Sociology (Law and Society) and double minoring in Public Health and Asian American Studies. She aims to pursue public health law and policy in order to tackle health disparities among low-income, marginalized groups on a community-level and state-wide level. 
For the 3-year duration of her academic career, she has been involved in various campus organizations and community work such as the Academic Assistance and Tutoring Center (AATC, as a Writing Head Subject Tutor and Writing Tutor to provide writing resources for undergraduate students), the Vietnamese Cancer Awareness Research and Education Society (VN CARES, a student-run clinic serving the underserved Vietnamese community in Sacramento/Davis), and the UCD Mental Health Initiative (to act as a liaison to spread awareness and mental health resources via the annual Mental Health Conference and Mental Health Awareness Month).
As a Bradshaw Scholar, she is eager to be working with Jackie Cole at Veritable/Good (VG) Consulting, to bring environmental justice and social equity focus to projects, as well as developing collaboration within underserved communities to engage with regional decision-makers.