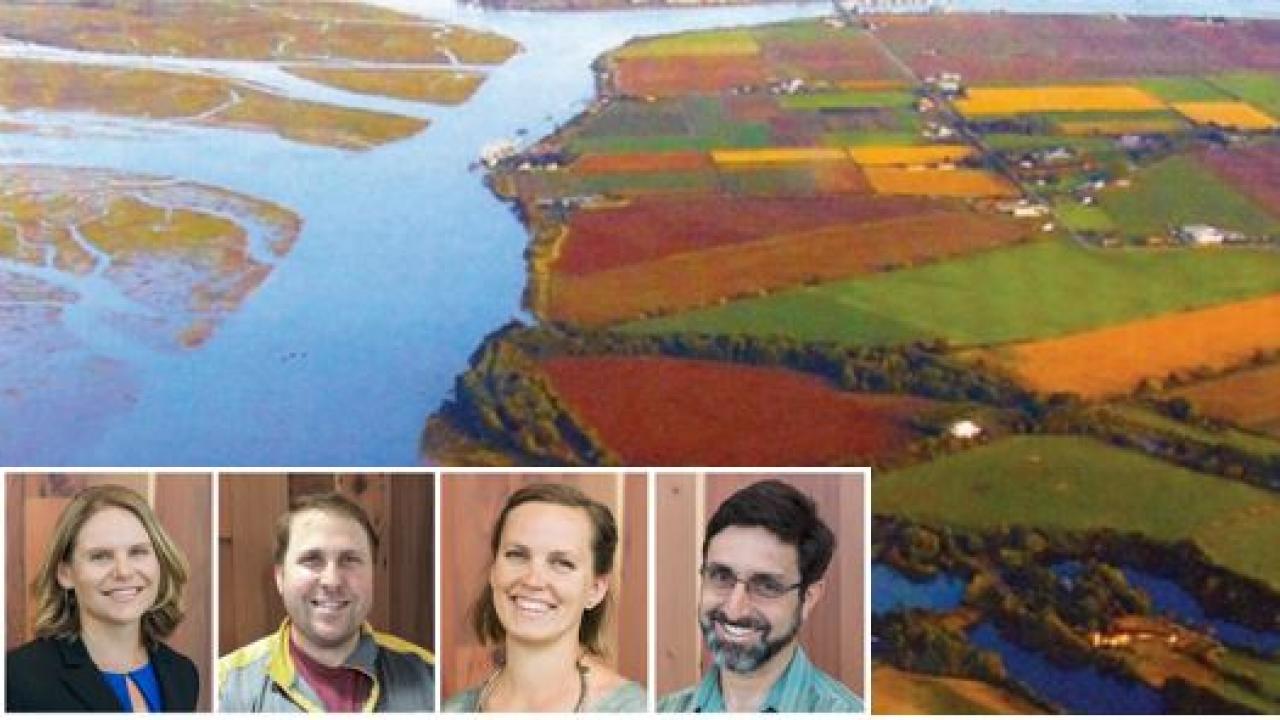 Location
Kearney Agricultural Research & Extension Center 9240 South Riverbend Avenue Parlier, CA 93648
UC Davis Center for Regional Change Presents: The Regional Change Public Dialogue Series 2017-18 in Fresno
Spring 2018 Dialogue: Promoting Sustainability and Prosperity in Rural Communities
w/ speakers Dr. Anne Visser, Dr. Catherine Brinkley, Dr. Keith Taylor, and Dr. Jonathan London from the UC Davis Human Ecology Department

Friday – May 11, 2018
4:30PM – 6:30PM
Kearney Agricultural Research and Extension Center
9240 South Riverbend Avenue – Nectarine Room
Parlier, CA 93648 (20 minutes outside Fresno)

RSVP to vchiappone@ucdavis.edu
This is event is free and open to the public
Refreshments will be served
SCHEDULED PRESENTATIONS AND BIOS:
Socioeconomic Indicators for the Sacramento San Joaquin Delta
Dr. Anne Visser and Dr. Catherine Brinkley, UC Davis Department of Human Ecology
America's rural areas contain historic, economic, cultural, and agricultural resources that benefit residents, visitors, and broader local and state communities.  Unlike their urban counterparts, policy objectives are markedly different.  Instead of focusing on population growth, many rural areas prioritize land preservation from development, increasing agricultural economic vitality, and bolstering visitor-ship to natural and scenic areas.  For these reasons, rural areas must be particularly attuned to the machinations of cyclical economies dependent on food, tourism, and housing construction.  At any given time, one of these sectors is vulnerable to global pricing changes.  The temptation to convert idled farmland to urban development during such agricultural market recessions is great.
In response, many rural areas are using newly available data specific to their boundaries to generate socio-economic indicators that can be monitored and updated over time.  Dr. Visser and Dr. Brinkley will provide an overview of one such indicator series created for benchmarking policy progress in the Sacramento-San Joaquin River Delta (the Delta).  Indicators help communities and regions monitor conditions by providing baseline measures against which policy interventions and socioeconomic change can be measured.  The State's coequal goals for the Delta are to provide a more reliable water supply for millions of Californians, and to protect, restore, and enhance the Delta ecosystem in a manner that protects and enhances its unique resources and $30 billion agricultural economy.
Dr. Anne Visser's research focuses on issues of social and economic inequality.  She is interested in understanding forms of social, economic, and political exclusion (such as poverty, citizenship status, race, class, and gender) that result in inequality and social stratification, and the capacity of government and civil society to address such inequality in the United States and in international contexts.  Her research seeks to inform the development of economic and social policy at all levels of government that support the inclusion of disenfranchised populations to promote equitable and sustainable development across societies.
Dr. Catherine Brinkley's research is focused on public health and planning.  Her research lab group conducts spatial analyses.  For example, some of their recent research is focused health outcomes and planning policies related to food deserts, areas that lack supermarkets.  She has also investigated how urban plans influence agricultural productivity either by preserving farmland or spurring its conversion to urban uses.  Her work is used internationally by the United National Food Agriculture Organization, as well as local communities to guide plans and policies.   
Diversifying the Community Economic Development Toolbox: Co-operative Development
Dr. Keith Taylor, UC Davis Department of Human Ecology
Virtually every American community is involved in some form of community economic development (CED), yet the old models provide little hope for long-term, sustainable development.  Dr. Taylor will be discussing a CED movement that is only beginning to receive attention, and promises to have significant impacts for post-industrial communities and regions, like Fresno.
Dr. Taylor is a product of the Midwestern rural rustbelt, born into a working-class family from a community in persistent decline.  This front-row seat to globalization's downside inspires Keith to work toward new approaches for resilient community development.  As a faculty specialist in CED, Taylor is interested in economic development approaches that are enduring, build localized self-reliance, and account for volatile market and political forces by breaking dependency.  Toward these ends, Taylor focuses on three CED relevant areas in the context of Californian, American, and international communities: (1) Community participation and governance, (2) Economic development through local business development, and (3) Market access and community power through scale.  Taylor was a research associate at Indiana University's Ostrom Workshop, holds a Ph.D. in Human and Community Development, and is a proud graduate of Lake Land Community College.  In his previous professional capacities, Keith has worked as a legislative aide for a member of Congress, and consulted in economic and international development.
Water Justice in the San Joaquin Valley
Dr. Jonathan London, UC Davis Department of Human Ecology
Dr. London will present the results of a recent study of access to safe drinking water in disadvantaged unincorporated communities in the San Joaquin Valley. The report analyzes disparities in the achievement of California Human Right to Water and provides practical recommendations to ensure that this right is protected in the San Joaquin Valley. The lack of access to clean, safe, and affordable water is a threat to public health and well-being, and violates the State's newly codified Human Right to Water.  In low-income communities located outside city boundaries (known as disadvantaged unincorporated communities or DUCs), drinking water is often unsafe to drink and residents often purchase expensive bottled water for drinking and cooking.  Lack of access to clean, safe, and affordable drinking water has a racial and ethnic component: the vast majority of DUC residents are people of color who also face cumulative impacts from environmental contamination brought on by proximity to air pollution, pesticides, toxic facilities, and waste disposal.  The disparities that affect residents of DUCs in the SJV are deeply rooted in the political, economic, and social dynamics of the region's history.  California's legislature, regulatory agencies, and water suppliers need to undertake more concerted and well-resourced efforts to ensure that the Human Right to Water is ensured for all of California's residents.
Dr. London is an educator, researcher, and community-builder with experience in participatory research, rural community development, and community engaged planning.  His research addresses conflicts and collaboration in natural resource and environmental management, with a particular emphasis on environmental justice in rural communities.  Jonathan also directs the UC Davis Center for Regional Change, which serves as a catalyst for multi-disciplinary research that informs efforts to build healthy, prosperous, equitable, and sustainable regions in California and beyond.