Bay Area to Central Valley Migration and its Impacts
Bay Area to Central Valley Migration and its Impacts
This project is a cross-campus effort between the USC Sol Price School of Public Policy, Occidental College's Department of Urban and Environmental Policy, and the UC Davis Center for Regional Change. Over a three-year time period (2020-2023), we are working together to bring both a quantitative and qualitative understanding of regionalism and regional interaction to changing conditions in California's Central Valley. This project seeks to understand the impacts of out-migration from the Bay Area on Central Valley communities. Learn more about the project here.
Our research aims to work together with local policymakers and community stakeholder groups towards more equitable urban and regional planning and coordination. To help us understand what is happening in the Central Valley, we are seeking guidance and support throughout the project from a community advisory committee composed of individuals who understand firsthand how demographic changes in their communities impact migration patterns, fiscal health, and overall quality of life.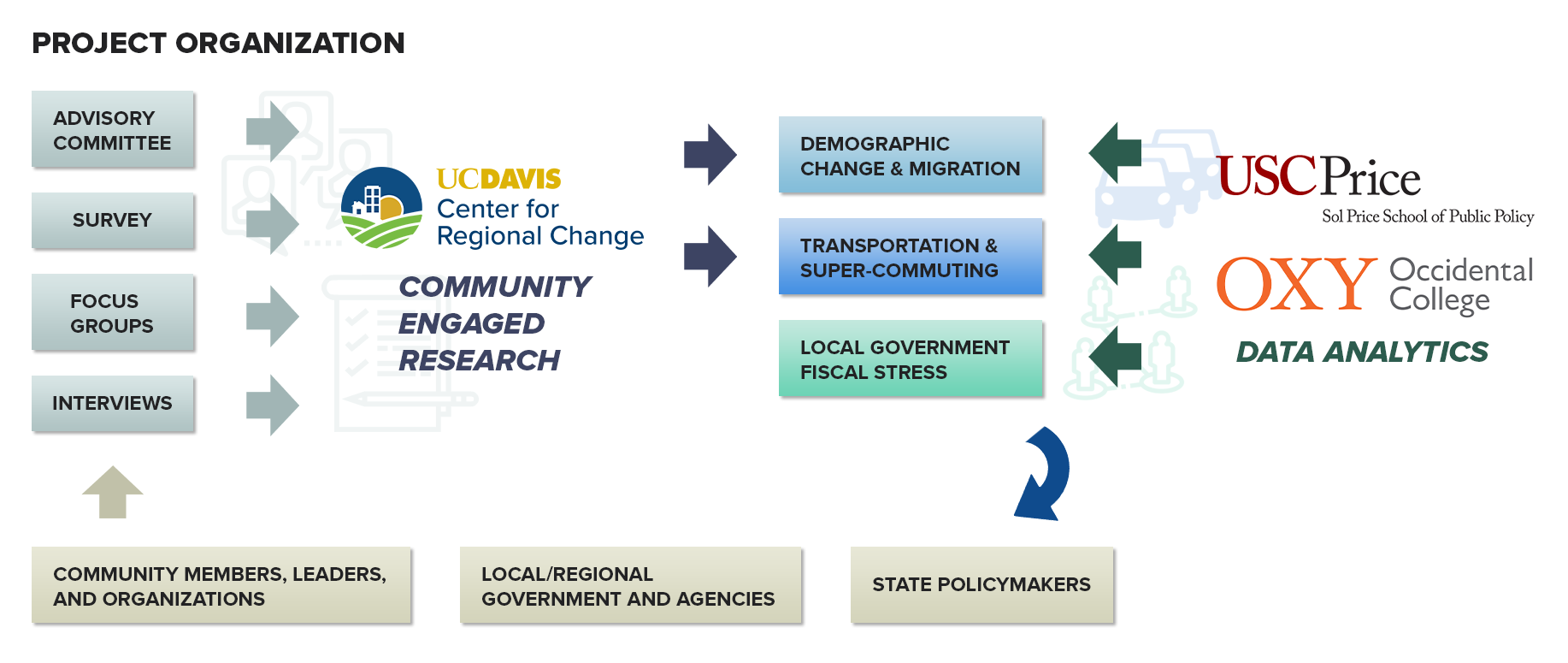 Capturing Impacts of the COVID-19 Pandemic
The regional factors under study were in place well before the COVID-19 pandemic started. However, the economic and social disruption caused by this global health crisis is impacting key conditions in Central Valley communities that are central to this study, including regional migration, commuting patterns, and government budgets.
To respond to this reality, our quantitative and qualitative research efforts include analyses of the current and ongoing effects of the pandemic in key areas such as housing, employment, and fiscal health. As part of this effort, we are surveying agency officials to ascertain the effects of COVID-19 on the financial health of local governments in the Central Valley and surrounding regions. Potential participants for this survey include budget officers, city managers, county administrators, transportation and public works department directors, school district finance directors, and others who can speak to the ongoing fiscal impact of the pandemic on their local agencies and jurisdictions. We will be conducting this survey periodically over the next three years to understand the ongoing toll of the economic downturn associated with COVID-19 and the fiscal responses of local governments.
To receive additional information and/or participate in our community advisory committee and our fiscal survey of local agencies, please contact Sarina Rodriguez, CRC Community Engagement Research Specialist, at sverodriguez@ucdavis.edu.
Consent Script for Focus Groups
This project is supported by the Chan-Zuckerberg Initiative (CZI) as part of their Housing Affordability program in their Justice & Opportunity initiative. 
Migration Advisory Board
Andrea Andrade, Self Help Enterprises
Andrea Solis, Visionary Help Enterprise
Amanda Blackwood, Sacramento Metro Chamber
Alicia Sebastian, California Coalition for Rural Housing
Bill Roby, El Dorado Community Foundation 
Cathy Creswell, Sacramento Housing Alliance
Carol Ornelas, Visionary Home Builders
Christine Corrales, San Joaquin County of Governments (SJCOG)
Cynthia Sapien, Youth Leadership Institute 
David Lipari, San Joaquin ACE Rail
Darryl Rutherford, Reinvent South Stockton Coalition 
Ejiro Okoro, Sacramento Housing Alliance
Fernando Cibrian, Mutual Housing California
Ilene Jacobs, California Rural Legal Assistance, Inc. 
Janine Nkosi, Faith in the Valley
Jasmine Leek, Third City Coalition
Jose Nuno, Visionary Home Builders 
Jesse Ornelas, Youth Leadership Institute 
Ken Baxter, San Joaquin Regional Transit District (RTD)
Kacey Lizon, Sacramento Area Council of Governments (SACOG)
Kristen Mazur (Yolo County Transportation District)
Kristine Williams, Enterprise Community Partners
Monica Sousa, California Rural Legal Assistance, Inc. 
Nancy Xiong, Hmong Innovating Politics
Mimi Elias, Fathers and Families of San Joaquin
Phoebe Seaton, Leadership Counsel
Robert Wiener, California Coalition for Rural Housing
Stacey Mortensen, San Joaquin, ACE Rail
Tina Curiel-Allen, Father and Families of San Joaquin
Veronica Blake, Placer Community Foundation 
Primary Category