How is UC Davis Working with Communities to Promote Climate Action?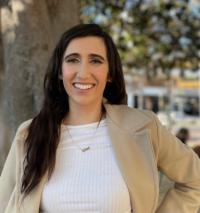 What does climate justice action look like? Imagine a world with more trees, green space, community gardens, clean energy, bike lanes, and beautified urban spaces. We are saying yes to cleaner air and water for all and with a special focus on historically disadvantaged communities. We are saying yes to sustainable and equitable development. We are saying yes to uplifting grassroots activist movements and to regenerative agriculture. This is the theme of a youth leadership gathering that took place associated with the United Nations (UN) Special Rapporteur on Youth and Climate Justice on May 21, 2021, led by Professor Jonathan London and Brandon Louie from the UC Davis Center for Regional Change (CRC) with participation from UC Davis Global Affairs. The purpose was to engage youth leaders to focus on climate action on the regional level. The CRC is a strong proponent of environmental and climate justice, which is demonstrated through their Environmental Justice Research Initiative that helps inform public policy, advocates for the inclusion of historically disadvantaged populations in meaningful decision-making discussions regarding the environment, and supports community self-empowerment.
The United Nations North America Consultation on the Right of Children and Youth to a Healthy Environment gathered youth and adult allies together to discuss and address some of the world's most pressing issues related to climate change, with a focus on youth activism and youth-led environmental justice efforts. As part of the UN Special Rapporteur's process and reporting, researchers from the U.S., Mexico and Canada met together to gather data and organized local workshops with youth. The report that emerged from these regional dialogues and a culminating multi-day gathering between youth and adult partners is called the Phoenix Manifesto. It advocates for the goals of the next generation to make policymaking more community based and to support the future health of youth and the ecosystem. The Phoenix Manifesto recognizes everyone's right to a healthy life and safe environment, and proposes solutions to broaden environmental education, to utilize preventative policymaking, and more. Additionally, it discusses the significance of understanding intersectionality and diversity in the realm of environmental issues and policymaking.  
Several organizations across California came together for the United Nations Youth Climate Justice Consultation, including the Central California Environmental Justice Network (CCEJN), Fathers & Families of San Joaquin (FFSJ), and Breakthrough Communities. Youth from these organizations identified what issues they were facing in their community in order to bring about a larger discussion associated with the UN Special Rapporteur to share experiences and strategize solutions.
Members from CCEJN described how the Central Valley has more air pollution than other parts of California, and even the country as a whole. These hazardous levels of pollution disproportionately affect low-income communities and communities of color. CCEJN member and student Patricio Gonzalez pointed out how, for example, Fresno has a majority Latinx population and has poorer air quality compared to nearby Clovis, which has a majority white population. Gonzalez shared a solution for all Fresno schools to have their own air monitors to determine if it is safe for kids to play sports outside. These disparities in environmental justice are also reflected in the cost and quality of water as well for different communities. Additionally, CCEJN discovered that lower-income, Latinx-majority communities such as in Mendota and Cantua Creek have a higher monthly cost of water and have higher levels of toxic chemicals in their drinking water. Safe and affordable drinking water should be accessible to each and every community.
To encourage youth engagement to resolve these kinds of issues, CCEJN started the Youth Environmentally Savvy (YES) initiative in 2019 that includes youth from sixth grade to college students to discuss potential solutions to climate issues in their communities. Student Angel Vasquez shared the urgency in which we must act to combat climate change, as we are seeing the devastating effects even more each year as wildfires increase in frequency, size, and destruction. Vasquez worked with CCEJN to create materials that described where farmworkers can get a N-95 mask and information about air quality, who were at a greater risk during the fires due to working very long hours inhaling the smoke with little protection. CCEJN is working to protect the environment in their community by planting trees and by hosting community cleanups in Fresno to tackle the issue of illegal dumping. CCEJN is saying yes to more green spaces, better working conditions, and recycling.
FFSJ targets environmental issues that impact the Stockton community, which is in what can be described as a "bathtub"—a region surrounded by three mountain ranges which pools pollution generated by the valley's agriculture, transportation, and industry. The solutions offered by FFSJ set goals to plant 2,000 trees to create more green space, install solar panels on homes, engage youth with climate careers, build resident and youth climate leaders in the community, and develop green workforce development jobs. Additionally, FFSJ created the Brandon Harrison Memorial Garden, a green space that also serves as a memorial for victims of gun violence. FFSJ is saying yes to more community gardens, regenerative agriculture, expansion of bike lanes, returning land back to their original stewards, and supporting plastic waste legislation.
Breakthrough Communities works to achieve environmental literacy statewide by working with the Environmental Literacy Initiative with K-12 schools, as well as with colleges and technical schools. In addition to supporting green careers for students, Breakthrough Communities has advocated for some practical solutions to climate action. Some of these solutions include the eco bus pass (which provides free bus passes to youth and to support eco-friendly transportation), the farm-to-school movement (which provides schools with fresh and local produce while supporting markets for farmers), closing the digital divide (which provides people with technology and free wifi access in disadvantaged communities), and centering equity in school systems. Breakthrough Communities has fostered intergenerational networks of leaders for climate justice that utilizes the Breakthrough Compass framework. This framework uses action-learning cycles to encourage self-reflection for each individual's vision for the future and acknowledges what they are saying yes and no to. Breakthrough Communities provides opportunities to share youth perspectives and empower their voices for knowledge creation, equity, and training sessions to uplift youth voices to direct action, offering another perspective. Breakthrough Communities is saying yes to supporting outdoor learning in addition to formal and informal community partnerships.
While tackling the large issue of climate change can seem daunting, supporting youth to have meaningful discussions and partnerships within and beyond their communities helps all of us to develop solutions to tackle pressing climate issues. Meeting at the regional level helped the young people in our convening to inform the UN on what issues youth are facing and helps amplify youth voice. We are saying no to racial, health, and economic inequities. We are saying no to deforestation, harmful pesticides, air pollution, and dismissing youth voices. We are saying yes to a brighter, cleaner, and healthier future with an environment that allows individuals to thrive.
What causes are you most passionate about? What issues are your communities facing? These are the types of questions I asked myself, and my passion for human rights and the environment led me to an opportunity where I served as a UN Sustainable Development Goal (SDGs) Intern for UC Davis Global Affairs. This experience allowed me to gain deeper insight on what the SDGs were and how they are being addressed by the UN. I was able to assist with the UC Davis Voluntary University Review, which tracks UC Davis' efforts towards the UN SDGs. This opportunity also led me to participate in the Youth Climate Justice Event. As someone who was born and raised in the Bay Area, it really opened my eyes to hear what issues surrounding communities are facing. I left the event feeling very impressed with the work of all the organizations and volunteers that are dedicated to contributing to meaningful work to empower their communities and advocate for their communities' needs locally and beyond. I felt inspired to become more informed on issues facing my community and to see how I can do my part to help the environment and support environmental justice. I also encourage each of you to look into your local community and to see how you can help if your schedule allows it. There are so many ways to get involved to be part of the positive change our planet needs. We are saying yes to environmental justice. We are saying yes to a better, cleaner, and healthier world for generations to come. Will you join us in this mission? 
Primary Category