PYOM 2017 Sautter Award Winner
Ten teams across the University of California were awarded the 2017 Larry L. Sautter Award, and Putting Youth on the Map (PYOM) received the Golden Award for Innovation in Information Technology! PYOM is an interactive website that provides analyses of California youth well-being and curricula to support use of the mapping tool. The site is a resource for researchers and policy-makers, as well as youth and adult advocates working to ensure the well-being of young people in the state.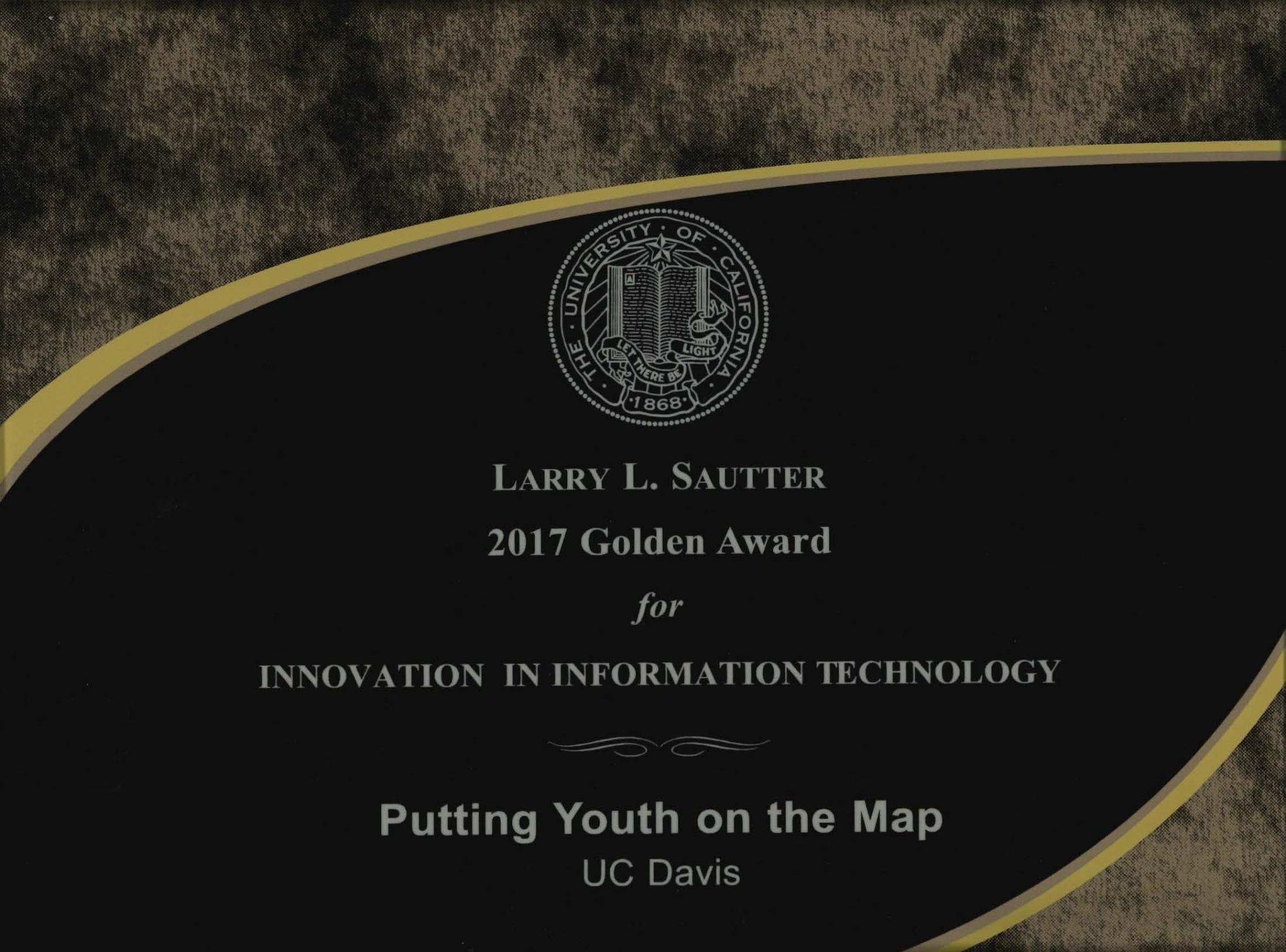 The annual award, which is sponsored by the UC Information Technology Leadership Council, recognizes collaborative innovations in information technology that advance the university's mission of teaching, research, public service and patient care, or that improve the effectiveness of university processes. The award encourages collaboration and solution sharing across the UC system.  System wide Chief Information Officer Tom Andriola announced the winners at the 2017 UC Computing Services Conference in San Diego. 
Dr. Nancy Erbstein, Department of Human Ecology and CRC Faculty Affiliate, is the PYOM Principal Investigator.  The PYOM team has also included many contributors: Dr. Estella Geraghty, formerly at UCDMC, who served as co-PI during the first year of the project; Center for Regional Change staff members Dr. Cassie Hartzog, Ms. Sara Watterson, Ms. Gail Lampinen and Mr. Sergio Cuellar; Assistant Professor Sheryl-Ann Simpson (Department of Human Ecology) and Professor Glenda Drew (Department of Design); youth development and nutrition-focused staff and academics at UCANR and UC CalFresh; UC Davis undergraduate and graduate student interns from the design, public health, sociology, community development and geography programs; programmers at Vestra Resources, Inc.; and last, but certainly not least, young equity advocates and their hosts South Sacramento Building Healthy Communities; Fathers and Families of San Joaquin (Stockton); and Eastern Coachella Valley Building Healthy Communities. This work would not have been possible without generous support from The California Endowment, UCANR, the Center for Collaborative Research for an Equitable California and Sierra Health Foundation.
Primary Category
Tags